SPECIAL EVENTS
---
For all events at Impact Church, contact:
Kelly Michalczyk / office@impactlondon.ca / 519.438.7036
---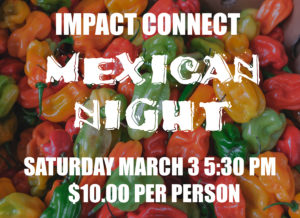 Impact Connect Mexican Night
March 3, 2018 at 5:30 pm
Tickets $10/person
Come join us for a great time of fun!!
---

Baptism Sunday
March 25, 2018 at 10:30 am
Contact Kelly at office@impactlondon.ca for more details.
---
Impact Youth
Freshwind Conference
March 29 – 31, 2018
$40 Deposit Due Sunday, January 21, 2018
---
Click here for recipes from previous Real Women events.
Click here for recipes from Sip, Swap, Snack (SSS Recipes).
CONNECT!
One of the best ways to get to know one another and to grow in Christ is to connect with our small groups. We have many different groups that meet throughout the week.